This is a very beloved painting of mine for sentimental reasons. The palms are Royal Palms and they live in a beautiful park near Biscayne Bay in Miami where I grew up. The park is a wild tropical hammock with trails that wind thru thick vegetation and then open up to stately groves of royals, very near Matheson Hammock where we played as children. My sister and I love to walk there when I visit Miami. Nearby are yards of native tropical jungle, and roads shaded by huge banyan trees.
Like so many of my collectors, who I appreciate immensely, the owner of this large original was generous in letting others enjoy the image by allowing me to make it into an Archival Giclee which has become very popular in Galleries around the state.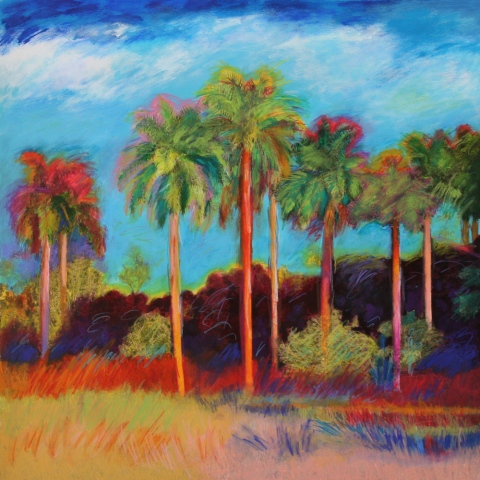 Matheson Hammock
Archival Pigmented Ink Giclee
Mounted on 11x11 mat bd ready to frame, price includes shipping and handling
Original is sold. Hand colored Giclee mounted on archival mat board, ready to frame. Smaller size $55. includes shipping. For Larger sizes see Ordering Folder. Custom framing available.